The day, which was for major superiors and members of provincial councils, brought together approximately a hundred people. The morning session included input by Father Dominique Grenier, Assumptionist and editor of the Catholic newspaper 'La Croix'. Following his input, three congregations spoke of actions they had taken in light of their future, giving methodological benchmarks for action. The time for group work in the afternoon allowed for the sharing of experiences which is always thought-provoking.
Some thoughts from Fr Dominique Grenier's input ...
He used the image of the 'Concordia'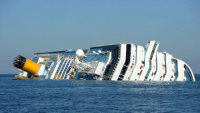 an image of a world that is struggling to avoid sinking
fragility of our world
He said that we have a society:
that is perpetually changing and that generates a sense of insecurity
where it is difficult to make long term choices in life
where one lives with the preference for the fluidity of social networks
What 'word of faith' can we introduce into this crisis?
We need to:
reinvent our identity
to have a 'memory' and a 'desire' ... live our charism with a capacity of imagination that opens to newness
He said that during the year of consecrated life, the Pope gave us the items to build a future with confidence and realism.
because of Christ ... a rootedness in the Gospel
under the sign of joy
witnesses of hope ... to live this difficult time in Hope
prophets to illuminate the future
waking the world
going to the outskirts
The crisis today could fill us with fear, but instead it gives us reason to respond with love and hope!