A very Happy and Joyful Easter
Our thrust to be missionary disciples

calls us to participate fully and whole-heartedly in the paschal mystery of Jesus Christ. We are well accustomed to the liturgical celebrations during the Triduum, a powerful reminder that the passion precedes the resurrection.
On Good Friday, everything seems lost then, on Easter morn, illuminated by the encounter with the Risen Christ and the message of newness of life, everything becomes possible.
The resurrection of Jesus is what gives deep meaning to our lives. The Risen One is the Good News of love who conquers death, who proclaims that the forces of evil neither have nor will have the last word in the history of humankind. Conquering death, Christ has restored to the world the hope that everything can be renewed and can change for the better if our lives are anchored in His. Easter offers us the opportunity for rebirth and new life.
a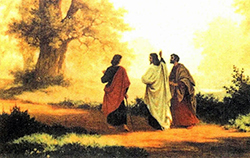 Christ is risen. He lives among us. He walks with us. May we have the courage to open our eyes and hearts to recognize the Risen Lord as he speaks to us along the road of our present day, and may we become living signs and prophetic witnesses of the power of the resurrection and of God's love in our world!
The General Council join me in wishing you a very Happy and Joyful Easter.
Affectionately,
Sister Clare Stanley
Superior General