Childhood and vocation
Born in 1779 into a deeply christian home, the oldest daughter of the Javouhey family enjoyed a happy childhood in the village of Chamblanc in Burgundy. The French Revolution would soon try to destroy the Catholic faith. Young Ann taught catechism to the village children, and helped the priests who were being hunted to escape capture. In the garden of her home there was a little oratory and here Anne spent many hours in prayer, feeling a call growing within her. On the night of November 11, in the presence of an 'outlawed' priest, her family and trusted friends, she consecrated her life forever to God.
Sisters of Charity and the Trappists of Valsainte
The Revolutionary fury had destroyed all the convents. Anne Javouhey set out in search of a place where she could begin her mission, first in Besancon where Jeanne-Antide Thouret was attempting to revive the Sisters of Charity, then in La Trappe in Valsainte, Switzerland where she met Dom de Lestrange. When she realised that her mission was not to be found there, she once more took up her search attempting various works: catechism, care of orphans, small free schools. She experienced failure after failure, living in poverty; one might even say misery.
Foundation of the Sisters of St. Joseph of Cluny
In 1804 Pope Pius VII, who had come to France for the coronation of the emperor Napoleon, stopped in Chalon-sur-Saône. Anne and her three sisters had an interview with him and he encouraged them in their vocation. As other young women joined them, Anne went to the Bishop of Autun who advised her to draw up a Rule of Life and then apply to have Statutes for the young Society. The Emperor approved these on 12 December 1806.
On 12 May 1807, nine young women pronounced their vows of religion before the Bishop of Autun in St. Peter's Church, Chalon.
"Now we are religious!" wrote Sister Anne-Marie who from now own could give free rein to her dynamic spirit.
She obtained permission to use the Autun seminary which had become national property and there she educated young girls and trained them for manual work. Wounded soldiers from the war in Spain returned to France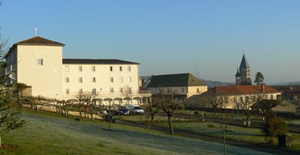 in large numbers and the Sisters became nurses at their bedside. After three years another house was needed and Balthasar Javouhey bought for his daughters the former Recollets Convent in Cluny. Soon the name Cluny, linked to that of the Sisters of St. Joseph, would be known in the five continents.
Missionary expansion
As God's call continued to reveal itself little by little, the Cluny Sisters were dispersed far beyond the plains of Chamblanc. The departure for Bourbon, a little known distant island, was both Anne-Marie's response to that call and the realization of her desire to respond to the needs of her day, no matter how great the difficulties might be. Before her death, the five continents would see her sisters arrive to educate, nurse and evangelize poor and rich, children and adults, blacks and whites, all "children of a common Father".
In French Guiana
"To break unjust fetters, to let the oppressed go free" Is. 58
In Mana, a village was built, land was cleared for agriculture, lepers were settled in a lush area, and runaway slaves were welcomed and prepared for emancipation. Convinced that she was doing "God's Work", Mother Javouhey was able, in spite of opposition and criticism, to assist hundreds of slaves to live their lives in freedom and peace.
Blessed Anne-Marie Javouhey
Passionate and fearless, quick to love and to forgive, filled with a goodness that knew no limits or barriers, Mother Javouhey lived a life of intense union with God which strengthened her in times of trial and was the driving force behind her unconditional service of children, those sick in mind and body, those who were despised; all the poor who came her way.
Her prophetic intuition, her natural talent for teaching, her daring initiatives, her creativity, all had their origin in her unshakable confidence in God and her conviction that God had called her. Her heart was always filled with thanksgiving. Anne-Marie died on 15 July 1851 and was beatified by Pope Pius XII on 15 October 1950.
Important dates
1779
10 November, birth of Anne-Marie Javouhey in a village in Burgundy, France.
1798
11 November, she consecrates her life to God during a clandestine mass.
1807
Foundation of the congregation in Chalon-sur-Saône
1812
Acquisition of the house in Cluny; the congregation takes the name of Saint Joseph of Cluny
1817
Sisters leave for the island of Bourbon (Reunion), and later for Senegal, the French and British West Indies, Saint Pierre and Miquelon, India, Oceania, Madagascar …
1822
The Foundress leaves for Africa, spends two years in Senegal, Gambia and Sierra Leone.
1828
She leaves for Mana in French Guiana and stays until 1833.
1835
Anne-Marie Javouhey's second departure for French Guiana where the Government entrusts to her the preparation of 500 slaves for liberation.
1840
19 September – ordination in Paris of the first three Senegalese priests formed through the care of Anne-Marie Javouhey.
1843
In August, she returns to France after the liberation of the slaves in Mana.
1849
Acquisition of the Mother House on rue Faubourg Saint Jacques, Paris.
1851
15 July: death of Anne Marie Javouhey in Paris. She leaves more than 1000 Sisters in 140 communities throughout the world.
1950
Beatification of Anne-Marie Javouhey in Rome by Pope Pius XII.
2004
Launched in 2004 as part of the "International Year to commemorate the struggle against Slavery and its Abolition" Chamblanc, Seurre and Jallanges (the cities of Anne-Marie Javouhey's childhood) were enrolled in Unesco's international project "the Route of Abolition".
2011
Retracing the footsteps of their 'dear mother', the descendants of 185 slaves came to France, to plant 3 'forests' in memory of those who had been freed by Anne-Marie Javouhey in 1838. The 'forests of memory' were planted in: Jallanges, her native village; Seurre, where she was baptized; and Chamblanc, her childhood village.