Foundation of the Sisters of St. Joseph of Cluny
In 1804 Pope Pius VII, who had come to France for the coronation of the emperor Napoleon, stopped in Chalon-sur-Saône. Anne and her three sisters had an interview with him and he encouraged them in their vocation. As other young women joined them, Anne went to the Bishop of Autun who advised her to draw up a Rule of Life and then apply to have Statutes for the young Society. The Emperor approved these on 12 December 1806.
On 12 May 1807, nine young women pronounced their vows before the Bishop of Autun in St. Peter's Church, Chalon.
"Now we are religious!" wrote Sister Anne-Marie who from now own could give free rein to her dynamic spirit.
She obtained permission to use the Autun seminary which had become national property and there she educated young girls and trained them for manual work. Wounded soldiers from the war in Spain returned to France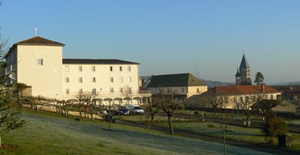 in large numbers and the Sisters became nurses at their bedside. After three years another house was needed and Balthasar Javouhey bought for his daughters the former Recollets Convent in Cluny. Soon the name Cluny, linked to that of the Sisters of St. Joseph, would be known in the five continents.
Happy Feast of the Foundation of the Congregation
Today we celebrate the birth of the congregation which was placed under the patronage of Saint Joseph. May 12, 1807, at St Pierre de Chalon-sur-Saône, Anne-Marie Javouhey, 3 of her sisters and 5 other young women made their vows.
On the occasion of our 214th year of foundation, we invite you to join us in a prayer of praise and thanksgiving as the Holy Spirit continues to guide the congregation and place within each sister the desire to "empower" those we serve wherever we are sent.


Enlarge the map