Christmas is a time of promise ...
A promise of HOPE in a new born Child!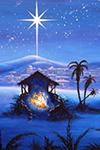 In the stable at Bethlehem, God shows himself to us as a humble "infant". For a child the world is full of possibilities. There is so much she can do and so much she can be. It seems as though anything is possible. A new born child signals hope for the future. The coming of the Christ-Child is a message of hope.
a
a
a
A promise of LOVE for a waiting world.
The Christ Child, the Son of God shows his great power by embracing smallness, weakness and poverty, in order to draw near to each of us. Perhaps we would have submitted more easily before kingly power, but He does not want our submission. He appeals, rather, to our heart and to our free decision to accept his Love. He has made himself small to free us from being distracted by the trappings of "greatness". His coming as a chi1d invites us to approach him in simplicity and makes us free to love him and to love others as He did. Pope Francis says - "God.. shows us that true power and authentic freedom are shown in honouring and assisting the weak and the frail".
The coming of the Christ-Child is the beginning of a life where LOVE triumphs over evil. May the encounter with the new born child fan the flame of HOPE and LOVE in our hearts.
Sister Clare Stanley, the General Council community, and all the Sisters of St. Joseph of Cluny wish a blessed Christmas to each one of you, to all your loved ones and to all who share in our Cluny Mission.